News
Meet the Board: Haroon Qayum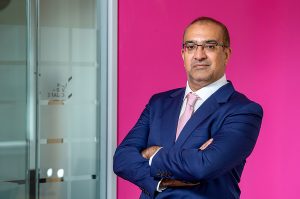 Haroon Qayum keeps busy as a Partner at LCF Law in Harrogate – and at home, as the father of a baby son – but he believes his time spent as a Trustee with the Solicitors Charity is also very worthwhile.  
"I got to know about the good work of the Solicitors' Benevolent Association, as the charity was then known, when I was President of the Cambridgeshire and District Law Society. 
While I have a busy life with my work and family commitments, I feel it is so important to support The Solicitors' Charity in the great work it carries out as much as I can. It's my way of giving back to the profession. 
I attend Trustee meetings and feed into the strategy of the Solicitors' Charity, helping bring the various campaigns to fruition. We aim to make a permanent and positive impact on the lives of the people that we help." 
He adds:
"I want to help promote the services that The Solicitors' Charity offers, not just to help solicitors in times of need, but also their dependants. As well as helping with finances, the charity can also provide support with mental and physical wellbeing, signposting people to partner organisations who give other types of support where necessary."   
Haroon was born and raised in Yorkshire and specialises in Private Client work, in advising high net worth individuals and family business owners on estate planning issues.
He was President of the Cambridgeshire & District Law Society between March 2014 and October 2015.   
Haroon enjoys hiking in the Peak District and is looking forward to discovering the Yorkshire Dales after his recent move to North Yorkshire.