News
Meet the Board – Trustee Christl Hughes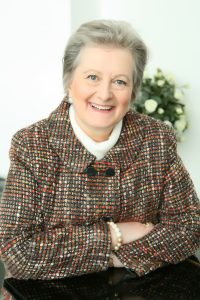 Equality and Diversity have been two of Trustee Christl Hughes' personal cornerstones throughout her legal career.
She has supported women solicitors through her committee work – as Chair of the Association of Women Solicitors, London, and solicitors needing help with The Solicitors' Charity. She has also embraced greater diversity on the Board.
"When I joined the charity board, the only women Trustees were myself and Sally Williams. I am pleased that today, there are women and men, from many ethnicities and from all across the country, represented – this is due to a project with which I was proud to be involved, introducing diversification to the board."
Christl's tireless work was recognised in the late Queen's New Year's Honours List in 2020 when she was awarded the MBE for her services to Equality and Charity.
These strong values stem from her family's history. She explains: "Fighting discrimination has always been an important dimension for me. Although my Dutch Jewish grandparents successfully hid two relatives in the basement of their home in Utrecht, Holland, during the Nazi occupation in the Second World War, very sadly many other family members died in concentration camps.
"From an early age, this made me acutely aware of the consequences of all kinds of discrimination and that is where my interest in equality stems from."
Now retired from her work as a High Street solicitor in Leicester, where she specialised in contentious business, Christl still keeps busy.
Prior to becoming a Trustee of The Solicitors' Charity, she took the chair of the old national Association of Women Solicitors and is currently now chair of the Association of Women Solicitors, London, an organisation which provides a voice for women lawyers in all walks of legal life.
Christl has twice been President of the Leicestershire Law Society, regarded as one of strongest and most vibrant local law societies with a membership reflecting the diverse community that it serves. She served 9 years as East Midlands Representative on The Law Society Council Membership Committee, and was also for 9 years a trustee and Secretary for the Gender Identity Research & Education Society, a charity which aims to improve the lives of trans and gender diverse people, including those who are non-binary and non-gender.
She was the sixth woman in The Solicitors' Charity's history to be appointed Chairman and has been on the Awards Committee from the start including serving as Committee Chair and finding real satisfaction from being able to help solicitors in need.
She says: "The Awards Committee work is really important to me. Times have changed, but there are still so many solicitors out there who need our support. The legal profession is a very competitive market and solicitors run into many difficulties, financial, personal and healthwise, especially alcoholism and depression".
"Every case is considered on its own merits using the Joseph Rowntree Minimum Income Standard as the starting point for calculating our awards to solicitors in times of hardship. We believe there are many, many more people we can help if they would come forward."
Christl is in the latter part of her tenure as a Trustee and says she would like to see the organisation move forward in the future, with more beneficiaries successfully applying because "That's what we're here for."
Looking back at her personal highlights during her time as a Trustee, she reflects on attending the late Queen's 90th Birthday Celebrations on The Mall, for charities of which Her Majesty was Patron. This was a once-in-a-lifetime event, to which Christl as Chair was able to invite beneficiaries of the Charity as well as staff and trustees. A good time was had by all despite the downpour.
Having then been awarded the MBE at New Year in 2020, she was delighted to finally receive it from The Princess Royal at Windsor Castle in October 2021.
Christl is married and lives in Leicestershire, where she enjoys walking, swimming and reading novels in her spare time.