News
Chairman Matthew Robbins hits the premiership and helps raise money for the Saints Foundation
Now for something completely different! The Solicitors' Charity's Chairman, Matthew hit the premiership last week for a very special game of football that helped raise money for the Saints Foundation. With his amazing passion, he was a constant threat to the opponent Green Snow, making lots of unbelievable tackles, at the most crucial moments.
He joined team Carswell Gould Reunited and travelled to the home of Southampton FC to take on the Green Snow Collective squad, in the inaugural St Mary's Invitational Cup.
On the night, Carswell Gould Reunited came out on top with a 5-1 win, with Rich Kell from Bacardi winning man-of-the-match for his scintillating performance on the pitch.
The coach of Carswell Gould Reunited picked up on Matthews performance that night too: "Matt turned up with muddy boots that suggested he knew what he was doing and he didn't let us down, we were so pleased that The Solicitors' Charity could field such a great player for this unique match."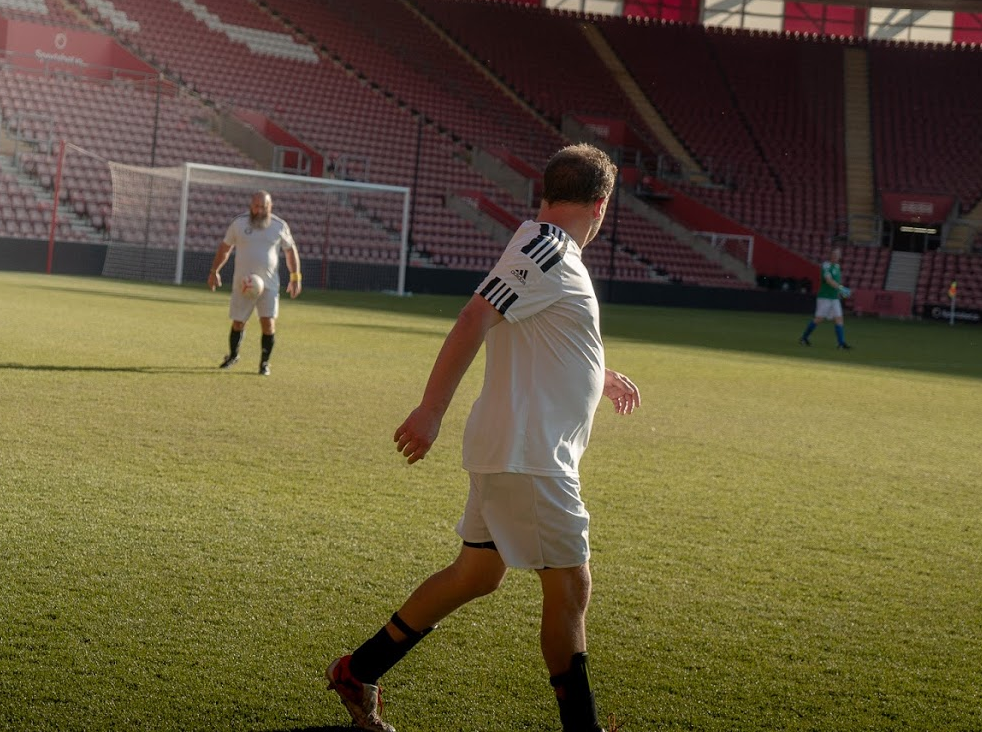 Players were encouraged to raise money and donate to the Saints Foundation charity helping people fulfil their potential to be more involved, with healthier and empowered members to add to the community.
The game was part of Southampton FC's end of season celebrations, where it has opened up the pitch to local schools, businesses and fans to play on the same turf that Danny Ings and James Ward-Prowse have graced in the Premiership.
Gareth Miller, Managing Director at Carswell Gould and squad manager, said: "It's been a real honour to play on the pitch at St Mary's and a great experience to involve our clients in. We were delighted to be able to put the relative footballing talents of our agency up against the team from Green Snow and in front of one of the biggest crowds this season. We've won many awards for our marketing work in the past, but this is the first time we've competed for footballing silverware. It's also been fantastic to get together with a few of our clients in person again, rather than via a Zoom call."
Steve Mills, Owner at Green Snow, said: "Every day we're working with the likes of Team GB and Team INEOS Grenadiers to ensure their customers can access their quality products online, so sport is key to our business's DNA, but it's fair to say that 90 minutes in the heat at St Mary's Stadium was an entirely new challenge. It's a great experience and nice to be able to raise some money for the Saints Foundation at the same time."
For more information and to see all the images from the St Mary's Invitational Cup visit football.carswellgould.co.uk.